To Import variable pay please follow the below steps:
Click on Import Menu.
Import screen shown. Like below.
In "Importing for" select the "Employee Payroll – Variable Pay" from drop down list
File should be in CSV format and it should be a minimise while importing.
Check the below file format.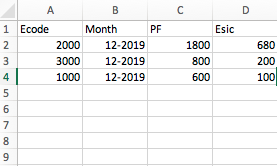 Select the file which you want to import by clicking on Choose file.
Click on Start Import.
Below screen shown.

Map the File Headers to Database Column like above.
Click on Next.